Today was Chris' 24th birthday. We went to see the movie Red Dawn and got coffee afterward (well, he got coffee... I got hot chocolate because I hate coffee).
Red Dawn was a really good movie! And he was talking about how he wanted to see the original one again, so when we got home, I ordered it for him, and I'm going to give it to him for Christmas :) Shhhhh. He doesn't know!
After the kids went to sleep, I cleaned the house from top to bottom. Like, I was literally on my hands and knees scrubbing the kitchen floor (our Shark mop won't work, so we are mopless).
I also boiled the eggs (for deviled eggs) and made orange delight (it's a mix of a bunch of stuff that I don't feel like listing, but it's good!). I also got out everything that I'll need tomorrow that doesn't need to be refrigerated.
I'll be cooking ham, mac and cheese, mashed potatoes, corn, and rolls and finishing the deviled eggs tomorrow... my mom is making everything else and bringing it.
Also, just wanted to show the cute plate sets we got for the kids that will be here tomorrow.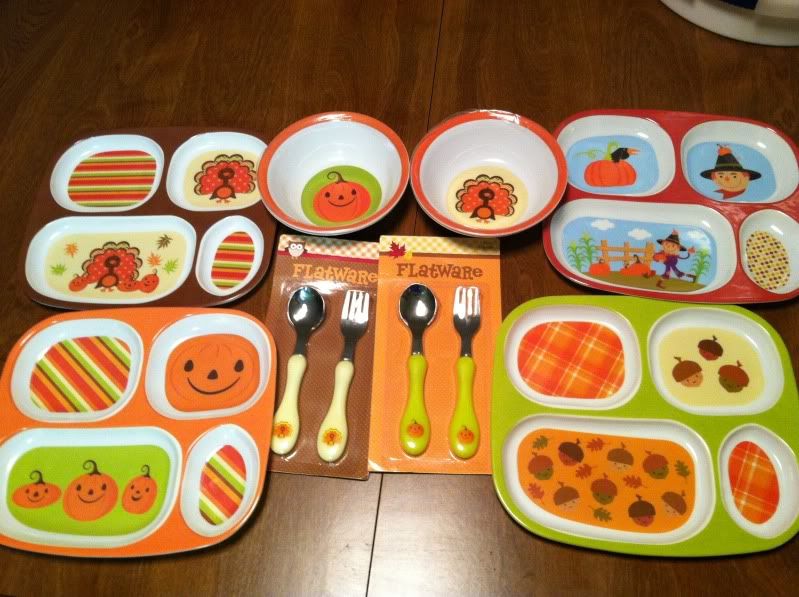 I'm going to try to get some pics of the kids in their outfits tomorrow, so hopefully I'll have some cute ones to post tomorrow night!
Also, this time a year from now, I will be sitting in a theater waiting on the premier of Catching Fire!!! A year seems like forever away.