Long story short... the night before last, Brentley woke up at 4 am throwing up. Fast forward through lots more vomiting, some diarrhea, a fever, and a trip to the doctor... by 7 pm, he had only had two (barely) wet diapers and he hadn't held a single thing down since he first started throwing up, and it had been 24 hours since the last time he had ate anything (dinner the night before). So, we called the on call doctor, and she said to take him to T.C. Thompson's Children's Hospital for possible dehydration.
So, we took Grace to my mom's and headed to the hospital (which is a good 30 minute drive).
He was NOT a happy camper while we were there. His temp was at 101.3, so we stripped him to his diaper. He was crying almost the whole time, and we were in this room with multiple beds, and only curtains divided the patients. Well, the people next to us apparently got nosy .. the daughter stuck her phone over the curtain and started taking pictures!! For those of you who know Chris, you know that didn't sit well with him. Before I could even say anything (which I would have), he said, "Are you kidding me? People need to mind their own business!" To which the mom replied (just like this), "I know he ain't saying stuff to my kids!" Ohhh goodness. Personally I think we had every right to say something considering what the daughter was doing, but I was afraid the mom was going to come around and try to start a fight or something. Luckily she didn't.
Anyway, they gave him some anti-nausea medicine and a popsicle. He ate the entire popsicle (which made him extremely happy because he was finally getting to eat something again), and he held it down for 30 minutes, so they gave us a prescription for the medicine and sent us on our way. So far, it has worked. He's had some diarrhea, but he's doing much better...
On the other hand, Grace and Chris have it now :(
We had to put this sticker on him.
At first he was just checking everything out. (Ignore me... that's what I look like when I've been up since 4 am and been thrown up on 10+ times lol).
Then he got grumpy.
Then his exhaustion, hunger, and sickness caught up with him. This is what apparently prompted the girl to snap some pics of us.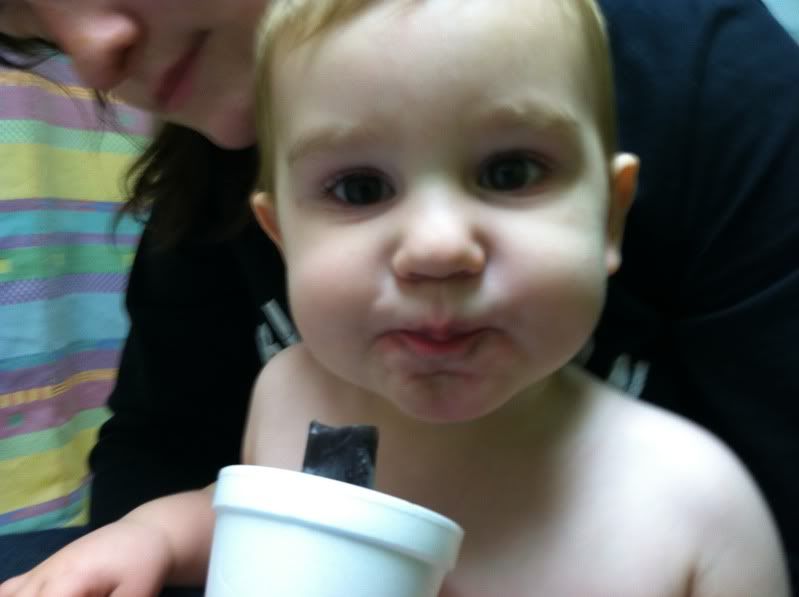 Then he got a popsicle, so he was a little happier.